In art and dream may you proceed with abandon. In life may you proceed with stealth and balance. — Patti Smith
The pile of discarded, used tissues lay beside my bed in a little mountain of white. My raspy breathing reminds me of the value of air for which I struggle. Each coughing jag is a dagger in my throat and chest. For more than two weeks, I have been "under the weather." My immune system, the shield supposed to protect me from the viruses floating around, is full of holes. My work and my life have seemingly come to a halt.
I'm not unlike thousands of people who just got hit with the flu. That's why the government and common sense dictate getting a flu vaccine every year. I didn't. So it's my fault.
But I know what caused my condition. I neglected the things I normally do to take care of myself. Rest. Decent foods.
Balance.
For a couple months Elin and I have been focused on getting our home ready for a photo shoot for a major design magazine. It's something about which we are both very excited, a flattering testimonial to the amount of work we already have done in our home. The pace has picked up since Thanksgiving, and early this year nearly every free moment was devoted to finishing an array of projects inside and outside to get it ready from a to-do list that was full of things we wanted to do "some day."
A couple weeks ago, I worked for two solid days knocking off "the list." At the end of the second day I knew I had run myself into the ground, going beyond my normal capacity.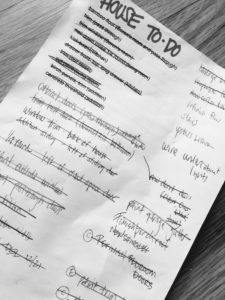 Our focus was the most intense I've ever seen in the two of us given the importance of pulling off this photo shoot. Elin is fond of saying "nothing ever gets done without a deadline," and it was rewarding when she crossed off task after task..
Our home has been a lab where she has turned her design ideas into reality.
Unofficially Elin has been an interior designer all her adult life, doing the "work" of arranging furniture, picking paint colors, selecting the right accessories like lighting and art, even candle holders and the vases for a table arrangement, in her homes before we got together, then in our home the past seven years. Our home has been a lab where she has turned her design ideas into reality.  Design is like a second language to my wife. It seems to flow naturally within her. She has an uncanny way of noticing whether all the details of a room work and when they don't, she knows how to fix them. Last year she started her own interior design business called Exactly Designs and made it official.
So a photo shoot in a major midcentury magazine with a million annual readers is a really big deal for her. It's also a bucket list item she has wished to check off for years as validation of her design expertise.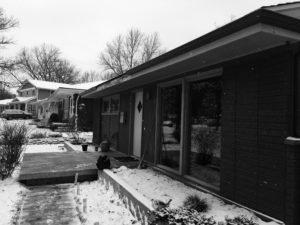 We rolled through Thanksgiving, first tearing off our ugly, deteriorating front porch. Then, with help, we started building a modern version designed by my father-in-law. In December, I ignored the onset of cold weather to move ahead with the porch and build an additional concrete planter. January came and the photo shoot was less than two weeks away. We were still completing work both inside and outside. On this particular weekend we knocked off the to-do's like worker ants for the Queen.
It was the same kind of fatigue I've had after running marathons.
By Sunday night, I was spent. It was the same kind of fatigue I've had after running marathons. I should have been wary because often I get sick after a marathon. Within days I was coughing and feeling run down. By the end of the week, I was sick.
We wouldn't have been able to present our home's best image for the photographer hired by the magazine had we not been operating at warp speed. We had one shot and the photo shoot went off brilliantly. The photographer commented how beautiful our home is. But, now, three weeks after the shoot, I'm still blowing into tissues, drinking cold medicine like water, and going between sweating and chills. It turns out that I have a mild form of pneumonia. Was it all worth it?
Well, yes. But my approach was wrong.
Balance is found in the small rituals we do routinely to make us feel grounded and vibrant.
I've learned it's best in life to detach once in a while from one's own narrow perspective and see things from higher up. Big picture stuff. I allowed myself to get way out of balance, even neglecting my health, in order to get things done. Balance, I suppose, is found in the small rituals we do routinely to make us feel grounded and vibrant. If I looked back, I'm certain I could find places I wasted time in unproductive ways and still accomplish everything we did. I was the hare when I should have been the diligent tortoise.
There's nothing wrong with singular focus. In fact, many smart and successful people stake their achievements on it. But how long can your singular focus be your singular focus before it causes you harm?
My temporary illness is a tiny price to pay for what the appearance of our home in a major design magazine means, especially for Elin. We also reap the benefits of having completed way sooner the to-do items on our "some day" home list.
It's a good reminder for me, however, to not get so caught up in the details that I neglect the bigger picture, always striving for balance in my life.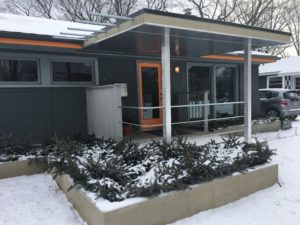 ###