In my mind I can see her clearly. The ball bobbing along the surface of the water right in front of her as she rushes toward the goal. Kicking hard. Her arms flying in a frenetic version of freestyle. No one is near but they are swimming hard after her. Quickly she is at the goal. She holds the ball high in her right hand. She is confident. Her eyes larger than the headlights on a bus. Her heart a piston in a truck engine. She freezes the goalie with her stare.
My daughter feigns a cross shot, once, twice, then slams a winner straight on net. The goalie leans meekly in the direction of the ball as it flies past. Goal. In reality, this goalie lost the confrontation the moment she locked into the stare.
I know this is how it happened because I was there this time. But the next game, the last of the year when my daughter scored four goals against a rival school from Ann Arbor, I was in a car driving to Indianapolis for a work meeting. I missed this one just as I had missed another game when she scored three goals.
The past 17 years are like a trail strewn with discarded debris of former travelers with all the events I've missed because of work.
The past 17 years are like a trail strewn with the discarded debris of former travelers with all the events–big and not so big–I've missed because of "work." I made sure I was a part of the iconic hallmarks of my daughters' young childhoods–when they first spoke, when they first walked, when they rode the bus to school for the first time.
Still, there are many times I wasn't home to put them to bed, where the quiet, giggly conversations yield unexpected insights into how they see the world. Dinners I missed because I was hundreds or thousands of miles away having dinner and drinks with clients either to get more of their business or earn their business in the first place. The nights their mom went over their homework instead of me because I was in a Fairfield Inn or Hampton Inn preparing a presentation for the next day. The mornings I didn't get to make their lunches and then kiss them before they went to tackle the school day.
There is a kind of rhythm to family. Every family is different. Each family creates its unique rhythm or flow. Built upon the individual routines of each member, over the years it helps define what it means to be a family.  This process, which surely happens outside our awareness, is based, perhaps, on a need to limit uncertainty and increase the sense of security.  An internal manual of family life created by this rhythm becomes the foundation upon which the children build their lives when they grow up and start their own families.
The thousands of hours I spent on the road doing my work have had a kind of cumulative effect to alter this process. They amount to a larger vacancy, a body of absence in the lives of my daughters that cannot be undone but which I am certain impact our relationships today. The unfortunate division of labor between husbands and wives where one parent travels extensively for work seems unnatural in retrospect. It taints memories of my daughters' early lives like some unforgivable trespass. It hit home for me a few years into my divorce when my youngest said to me, "Dad, you were always gone when we were little."
The absences undermined my credibility with my daughters. Disrupted the familiar rhythm of my family. They weaken my efforts to stay relevant today as they pull away and individuate the way teenagers are supposed to do.
When they were younger, rather than miss me when I was gone, they seemed to withdraw into the comfort of the routines they established with their mom. They became so at ease with "how things are done around here" that when I was home, I  often felt in the way.
Dad, that isn't how Mom does it
"Dad, that isn't how Mom does it," was a familiar refrain. I was messing up the home system they had devised. It was as if my need to be a part of their lives was an unwelcome and unneeded intrusion. I was the fly in the ointment, the gear gone wonky, the squeaky wheel in a well-oiled machine.
What happened? Little by little I retreated. When I wasn't on the road,  it started with going to my little makeshift office off the living room to do more work. First I disguised it as a promise just to answer a few emails or return a few calls. Before long work passed into dinner and I would rush in as the girls and my former wife were already well through eating. I would catch just a glimpse of them as they left the table one by one to go play with friends, do homework or watch TV.
At the dinner table an uncomfortable silence took over between my now ex-wife and I as we sat. Our inability to connect deeply on this issue and others would eventually break up our marriage. Soon she would leave to the comfort of her computer and all the busy errands she did to keep the house running.  After a while, I would clear the table and wash dishes and return to my lair in the office to send more emails or make more calls.
Failure to breach the gap into my daughters' everyday lives.
All to escape my incredible loneliness and my failure to breach the gap into my daughters' everyday lives.
Eventually it just became more comfortable to stay on the road as much and as long as possible. The road became my second home. As I racked up hotel nights and miles on the highway chasing some version of a career, my relevance in my daughters' everyday lives faded. Intimate daughter-daddy conversations were replaced with brief phone calls right at bedtime, usually during client dinners. My ex-wife and I only exchanged short sentences and weak "love you's" before she hung up.
"We're fine here," she would say. "You are the one having trouble."
She was right. I was having trouble. Chasing dual obligations–to provide for my family and be engaged in a way to earn a living, while also being the kind of father I wanted to be–became a zero sum game. The price I paid for trying to do really well in both arenas is that I did really well in neither.
I was running from my inability to integrate into the family rhythm.
I was just running. Running from my inability to integrate into the family rhythm, unable to command a presence at the tableau of their hearts as the rightful patriarch of this castle. I didn't know how to get back. I felt too guilty to force my way into their routine.
Today my girls are busy teenagers entrenched in their lives: They are cheerleaders, field hockey and water polo players, high school and middle school students with orchestra concerts and art shows and boyfriends and girl friends.
Perfectly normal. Like it should be. But without me.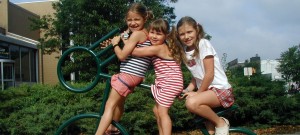 ###